BMC Client Management for Track-It!
Reduce service calls by 80% through integrated endpoint management
PRODUCT DESCRIPTION
Client Management for Track-It! automates endpoint management and helps organizations control costs, maintain compliance, and reduce risk. From device acquisition to disposal, Client Management provides an accurate view of hardware installations, ensures device adherence to organizational and industry policies, and supports systems and software currency.
Contact Us
BUSINESS CHALLENGE
As businesses continue to grow and merge, IT organizations continually face the increasingly difficult task of accurately managing their technology assets. Common challenges include:
• Inventory and tracking of IT hardware and software endpoints
• Ensuring software licenses are maximized
• Maintaining current patches and reducing potential vulnerabilities
• Supporting the service desk with troubleshooting issues and integrating to reduce escalations
BMC SOLUTION
Client Management delivers mobile, desktop, and laptop management, helping organizations control costs, avoid audit failure, and reduce the likelihood of data loss. From the time a device is acquired, Client Management deploys the proper OS and software specific to the device and the user, ensures organizational and industry policy compliance, and keeps patches up-to-date until the device is retired.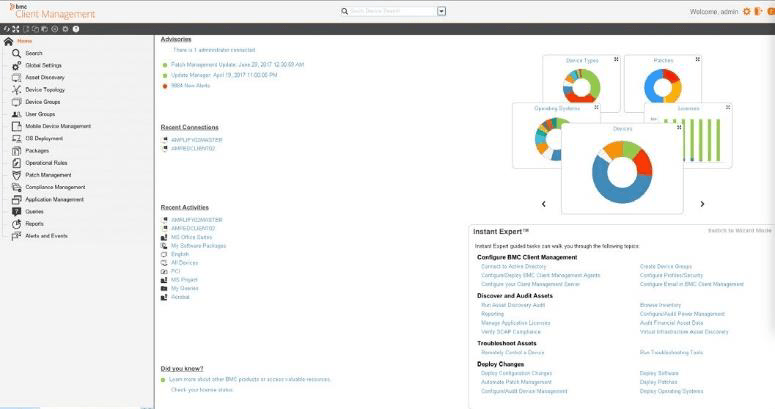 Client Management is easy to use with integrated wizards and instant experts.
KEY FEATURES
Client Management provides intuitive, simple and complete inventory and management.
Inventory your IT assets to know what you own and how those assets are being used.
Ensure your devices are current, secure and compliant with your IT policies
Access your devices remotely, even those not connected on VPN
Provide pre-approved self services for software downloads, common actions, and quick links with MyApps
Integrate endpoint management with your service desk or CMDB
KEY BENEFITS
Reduce patch time by 30% throuth set-it-and-forget-it automation
Lower deployment time by as much as 80%
Decrease post-PC migration services desk calls by 80%
Realize 100% ROI for 24 months of your Client Management Invesment