BMC Track-It!
Improve IT help desk and asset management operations with an easy to implement and manage platform
PRODUCT DESCRIPTION
Track-It! is a modern help desk system that provides the additional ability to manage assets at multiple levels including discovery, patch management, remote management, compliance and software deployment. Track-It! also includes change management, knowledge management and purchase management as well as customizable reports and dashboards. All in an easy to install, easy to configure package that most customers have running in just a few hours.
Contact Us
BUSINESS CHALLENGE
Most IT organizations face common problems: Doing more with less, work falling through the cracks, lack of a centralized knowledge base and people duplicating efforts when solving customer issues. Managing endpoints such as desktops, laptops, servers, and mobile devices adds to these challenges. With today's security risks it's critical that IT not only track all these assets, but also ensure they have all the right software, the right configuration settings, and that security patches are applied near instantly. Cutting costs while delivering better service is something that is not easy to achieve without the right solution.
BMC SOLUTION
Track-It! provides the organizational and automation tools to ensure your helpdesk operation is organized, reliable and efficient. It also automates the process of discovering all the endpoints on your network, deploying software to them, and keeping them patched and secure. Each Track-It! module helps to automate, streamline and organize issues specific to IT challenges, to help you reduce costs and improve service levels. Built from the ground up as an integrated system, Track-It! provides a single, unified solution to simplify a diverse set of complex IT management needs.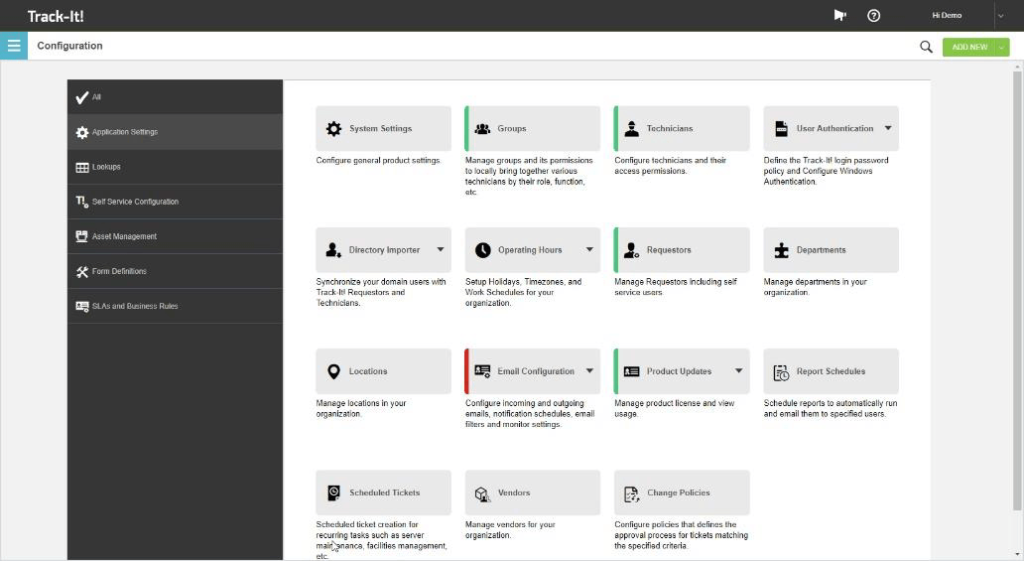 Color coding lets you know which essential configurations need attention.
KEY FEATURES
Fast – Help Desk can be up and running in 1 day without the need for consulting.
Personalized – Custom notifications, forms, escalation rules and workflows.
Everywhere – Works on any web browser and includes native iOS and Android apps.
KEY BENEFITS
Increased IT efficiency: Automating key business processes saves time and money, and using an integrated approach eliminates disorganized handling of repetitive operations.
Perform key tasks easily: Implement the right mix of automation and process. Track-It! provides the tools to manage incidents, problems, change and assets.
Reduce Security Risks: Track-It! automates and audits the process of keeping servers, workstations, and mobile devices up to date with the latest security patches
Reduce recurring incidents: Creating a permanent solution rather than a one-time fix is more efficient and helps prevent recurring incidents. Manage help desk incidents and proactively reduce the effect of incidents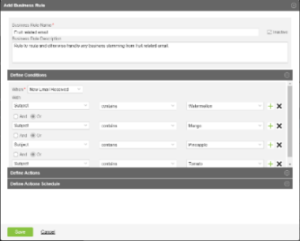 Dynamic Business Rules allow for multiple means of routing and prioritization.
PRODUCT DETAILS
Self Service: A simple to access and utilize web portal for end users to submit their own tickets, check status of tickets, view announcements and search for solutions to common issues.
Mobile Acces: Simple apps available for Android and iOS to allow technicians to manage tickets on the go.
Dynamic Workflow: Business Rules, Skill Routing, Service Level Agreements and automatic notifications and escalations help automate workflows, even handling complex processes such as onboarding and project management.
Browser Based: Technicians utilize the browser they're happy and familiar with today.
Asset Management: Scalable to individual needs. Hardware and software details scanned from assets. Remote Control, Patch Management, Software Deployment and Compliance Management are additional options, purchase only what is needed, with the ability to add or expand later.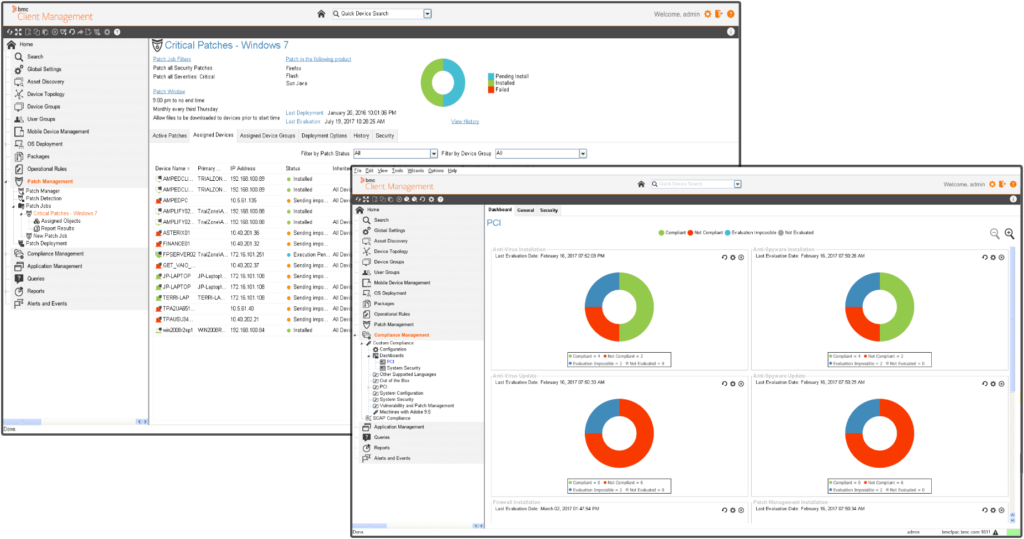 | | | |
| --- | --- | --- |
| Client Management saves time and money by ensuring critical patches are applied in a timely manner with Patch Management | | Pass audits and ensure and that company assets are used according to compliance standards with Compliance management |